Aircraft Differences Training-Gift Vouchers
Civil Aviation Authority, Approved Training Organisation, call James Peplow 07855 409512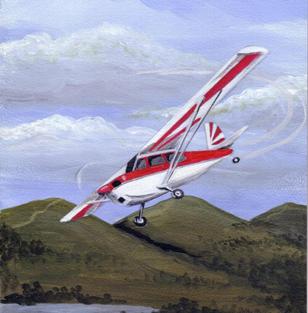 I offer air experience flights and trial flying lessons for those who have never flown before
as well as flight instruction for Private Pilots Licence (PPL), tail wheel type conversions,
short field/farm strip training, and Complex aircraft training all at very competitive rates.
James Peplow flying services
Based at Gloucester Airport U.K.
Cheltenham GL51 6SP
UK Mobile 07855 409 512

email: jamespeplow1@aol.co.uk
It's easy to buy an air experience flight as a gift

1, Decide on the duration of flight, 30 minutes or 60 minutes or a land away experience.
2, Click the Buy Now button which takes you to Paypal and complete your purchase, make sure you use the address where the card is registered as the billing address or the payment will not be accepted. If you would like us to add a name to the voucher put it in the 'add special instructions to the seller' section within PayPal.
3, When you receive your voucher all you have to do is give it to the lucky recipient and watch their delighted reaction.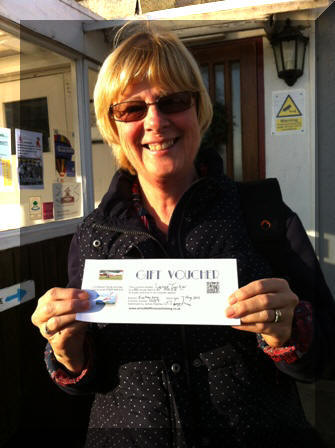 "What a fantastic present"

The lucky holder of the voucher just gives
us a call to arrange the time and date for
the experience to take place.
The Trial flying lesson or air experience flight in the 2 seat vintage aeroplane.

The whole experience starts when you arrive for the flight with friends and family who are welcome to come along and share the occasion. (There is a car park and viewing area as well as cafe to buy refreshments). You will meet your instructor and hand over your 'voucher' which is your ticket to ride! This is your chance to discuss what your aim is, from declaring your ambition to become a Commercial pilot or simply your desire to see your house from the air. Your instructor James, will be only too pleased to make sure you have the experience that best suits your requirements. There will be a substantial safety briefing and explanation of all the controls at the aircraft. Your lesson time will be from brakes off to brakes on, as the flight proceeds the instructor will give you the chance to 'have a go'. The exercises covered and time in the air can be put towards your very own Private Pilot's Licence. If it is your very first time in a light aircraft then you may want to just take in the view of the wonderful Herefordshire and Gloucestershire country side from this 'high wing' aircraft with fabulous all round visibility; great for photography. After the flight get some all important, photo's taken with your instructor. Happy flying!

Gift Vouchers are available to buy on line. All payments are using Paypal's security.
If you prefer, call James to arrange alternative methods.
The small print.
You can purchase gift vouchers for flights here using the secure Paypal service, you do not have to set up a Paypal account to use your credit or debit card.
If you have any difficulty just give us a call and we can take the payment over the phone.
All flights include briefings and insurance. Postage is £1.50 per mailing.
There are weight limitations for the safe operation of flights, please call us direct to discuss. There is no age restriction for learning to fly. On receipt of payment a gift voucher will be sent out via the post or email if requested, the flight time and date can be booked by the recipient just call to check availability. On the day of the booked flight it is recommended that you call to check that the weather is suitable. All flights normally operate from Gloucester airport (formerly Staverton)
Ideal gift for the aviation enthusiast.
Gift vouchers can be used for advanced training for already qualified Private Pilots as well as counting towards hours for the completion of a PPL
Please note that to use Paypal you do not need to have a Paypal account just 'Pay using a credit or debit card".
If you have any difficulties with any of our buy it now buttons please give James a call on 07855 409 512, we do have the facility to take card payments over the phone.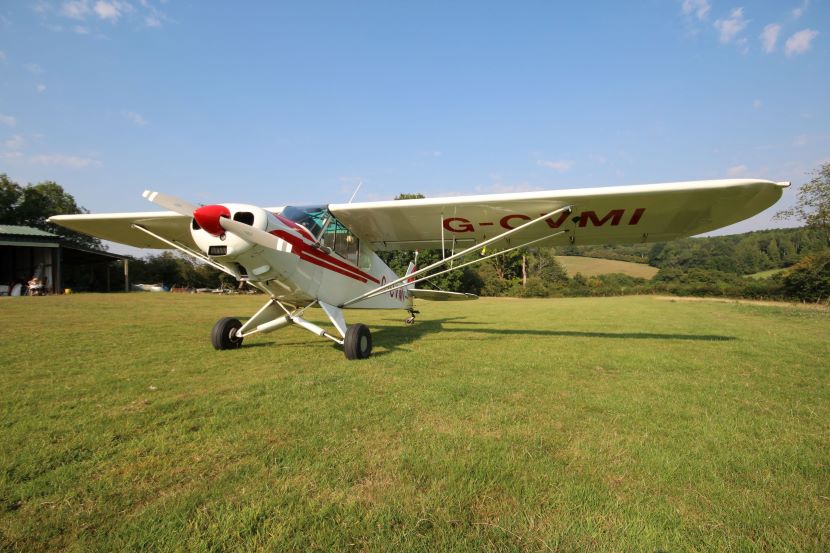 A trial flying lesson/air experience flight in the nostalgic Super Cub PA18 with
a flight duration of 60 minutes.
£230.00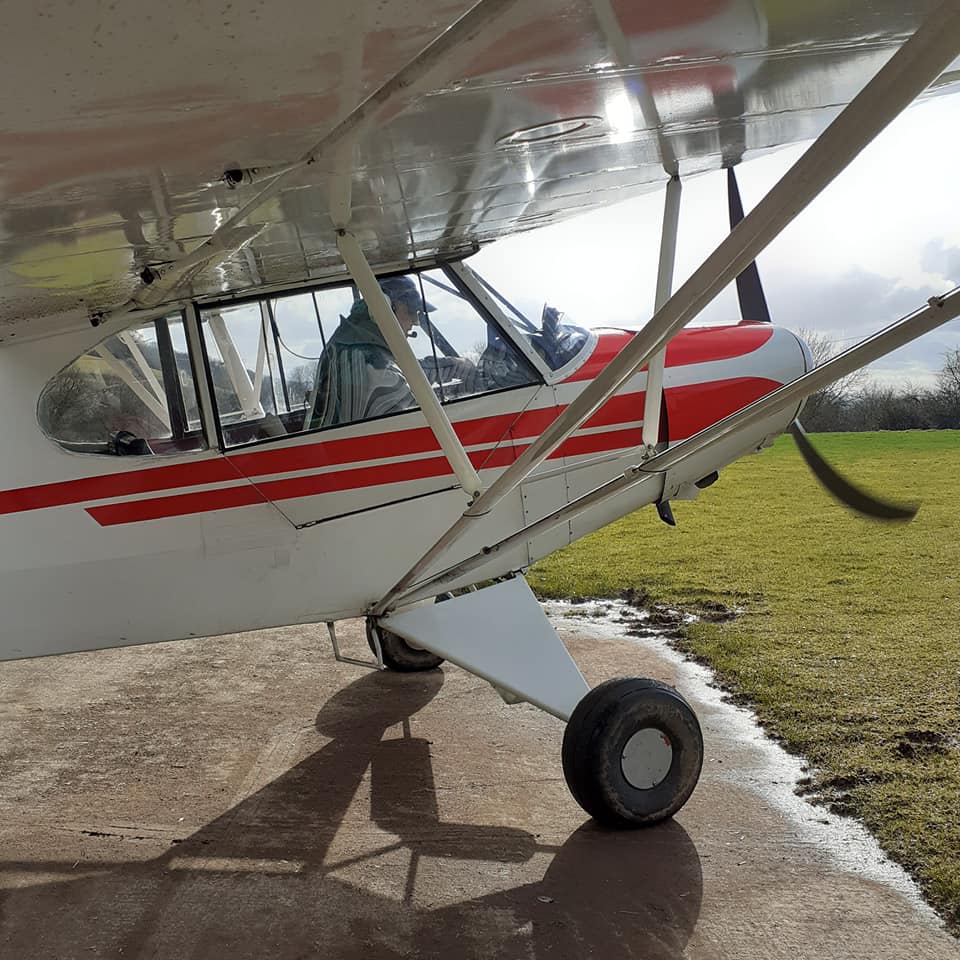 A trial flying lesson/air experience flight in the nostalgic Super Cub PA18 with
a flight duration of 30 minutes.
£120.00
'Land Away'



A 'land away' trial flying lesson/air experience
for one person in the nostalgic Super Cub PA18.
Experience a flight from Gloucester to either Cotswold airport (Kemble), Shobdon airport in Herefordshire or Half Penny Green/Wolverhampton airport, land at your chosen *destination. This is a bespoke experience, where would you like to fly over? Land away for a break and then take off for a second time and return to Gloucester.
The total flight time will be 60 minutes.
£250.00
If you have any questions, why not message us on Facebook, click
to follow the link
Aircraft Differences Training.

If you wish to buy more than one hour of tuition in the Super Cub,
please contact James by phone 07855 409 512 or
Contact me direct , email jamespeplow1@aol.co.uk
James Peplow Flying Services
Gloucester Airport
Cheltenham
GL51 6SP